Event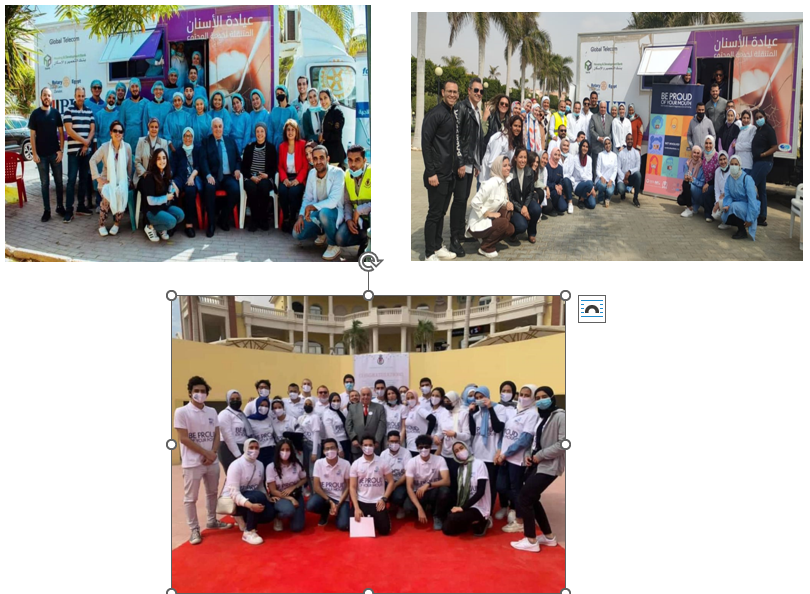 The faculty of Dentistry – The British university in Egypt will celebrate the world Oral Health Day -2023 with a wide range of events which will be extending throughout February and March months:
Dental convoys are arranged using the mobile clinic to remote areas deprived from oral health care to offer oral health care and awareness services, tooth brushing educational sessions and primary medical care checkups.
Primary School visit offering oral health care awareness, importance of healthy food for teeth and teeth brushing educational session.
Oral health Awareness and educational campaign arranged by the faculty's interns targeting different university categories as the students, workers, and hospital patients in the waiting area including demonstration of teeth brushing techniques on mouth models.
Patients will receive oral health kits as giveaways.
Celebrating the World Oral Health Day-2023 will be held in the university Auditorium, the program includes:
Senior Students competition about oral health and sustainability in Dentistry.
Hosting school children visit on campus for oral health educational through entertaining competitions and presenting an oral health educational play which will be presented for them by our faculty students.
An exhibition for Dental school degree year one students for activities serving oral health. 
Information
info@bue.edu.eg
Suez Rd, EL Sherouk City, Cairo Governorate 11837
El Sherouk
Egypt
Suez Rd, EL Sherouk City, Cairo Governorate 11837